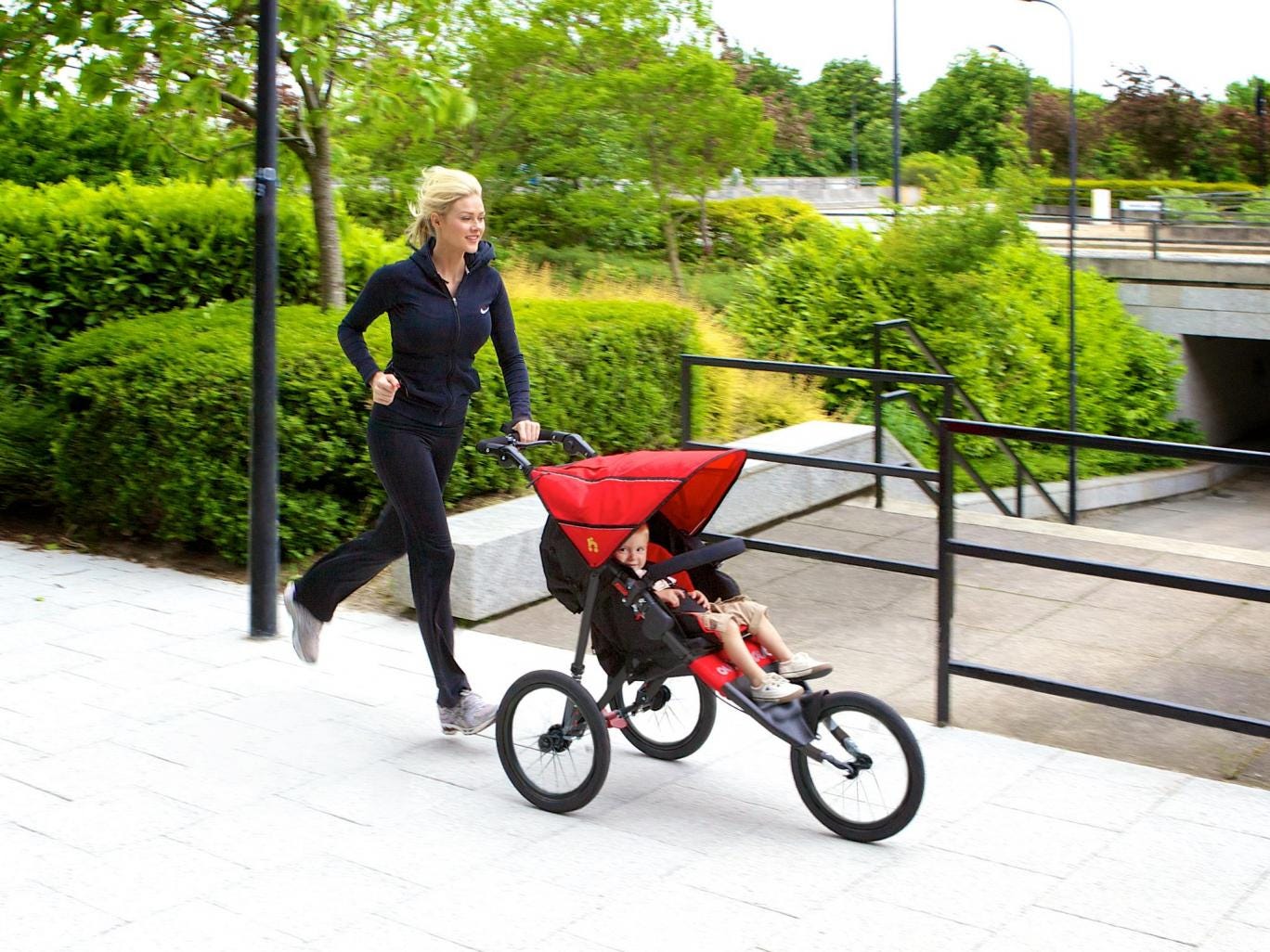 Jogging strollers are considered to be the latest design in stroller technology. Essentially created as a stroller someone could run with, jogging strollers have all of the features of a standard, four-wheel stroller, only the structure is streamlined. If you want to stay physically fit after becoming a parent, a jogging stroller is one option to continue to stay active and go outside with your baby. Although putting an infant in one is not recommended for six to eight weeks, one can be used through the toddler years or until the child grows out of it. As jogging can be through a spot of rough terrain, say through part of a park, the design allows you to take your baby through bumpy or uneven patches as you jog or run outdoors.
The feature that stands out the most on jogging strollers is the wheels. In addition to having only three wheels, the wheels are significantly larger than those on standard strollers. Why larger wheels? A larger design helps with navigating the stroller over rough terrain, which can include curbs and steps. These wheels have a circumference of twelve to 20 inches and the size in this range allows more resistance and "glide" ability. This, when running or jogging, helps control and steer the stroller better.
When looking for a jogging stroller, the design of the wheels is important for the type of physical activity you plan to do while pushing the stroller. The two wheel options for jogging strollers include swivel and fixed. A jogging stroller with swivel wheels has two in the front and allows the user to navigate the stroller better around corners and curves. In addition, jogging strollers with swivel wheels are better for indoor use. Fixed wheels, on the other head, are better for softer ground surfaces, such as if you decide to push the stroller over sand, snow, or gravel, and allow the stroller design more leverage. Additionally, while most with an infant aren't running a marathon, a jogging stroller ideal for taking to marathon training or long distance running is one with a fixed wheel design.
While wheels are important on buy a jogging stroller, other important factors to consider are shocks and reclining seats. For the former, shocks and suspensions aren't always necessary on a jogging stroller, unless you plan to walk or run with one along bumpy, uneven roads. Reclining seats, in addition, are a common feature on many strollers, as they can be adjusted for infants and toddlers. If you plan to use a jogging stroller with an infant, the seat should go flat, the best position for a newborn. However, as a baby doesn't have control of its neck or head, an infant on a reclined seat should have proper head support. Also, an infant should be bundled when taking him or her out in a jogging stroller, as infants aren't aware of their body temperature.
While all of these factors are important when purchasing a jogging stroller, another factor to consider is if the stroller is ASTM certified. ASTM standards for strollers indicate that the stroller design has been tested for entrapments. While meeting ASTM standards is not a law for strollers, those that are ASTM certified – the packaging should display this – are safer than those that are not.
Jogging strollers are a common design for many strollers. While jogging strollers are designed for more control as a parent stays active, the features include all of those as a standard design but with additional features that make the stroller easier to maneuver. Here is some information about design and uses if you're considering purchasing a jogging stroller.